Thursday Weekly Class
Event Info
Date

Thursday, 20 October 2016

Time

7:30pm onwards

Venue

SBSC

Price

£45 per 8 week course
How about doing something that is designed to be fun, that will increase your fitness, help you lose weight whilst meeting new people?
We will teach you to dance the hot Latin dance that is Salsa!
In just eight short weeks we will teach you how to; Mambo, Rumba, Back Step, Walk Turn, Cross Body, Cross Body Lead with an outside Turn and more...
A Common excuse people give for not attending is, "I can't dance". My reply is always the same, "If you could dance you wouldn't need to attend the classes".
Everyone is in the same boat on our beginners courses and we have a range of students from 18-60.
What if you might miss a class(s) due to work or holidays? Simply come along early upon your return and we will get one of our 5 instructors to give you one-to-one instruction, ensuring you never fall behind. In fact any time you feel you would like one-to-one tuition, just let us know and we will do our best to accommodate.
We do not go for the night club environment; we prefer the safer, more relaxed pace of teaching in a quality function room. Benefits include; free off road parking, cheaper bar and the friendliest group of people you will ever meet. If you don't believe us you are welcome to come and watch one night!
Eight Week Rueda Course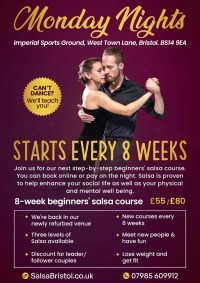 Event Info
Date

Thursday, 20 October 2016

Time

7:30pm onwards

Venue

SBSC

Price

£45 per 8 week course
Every eight weeks we hold a course in a different style of dance in our first hour slot with Alex.
This time round, we will be holding a course in the fun dance that is Rueda. Rueda always proves to be popular and students always have a lot of fun learning this "team" dance.
Alex will be teaching to all levels, however, we ask that you have experience in another dance.